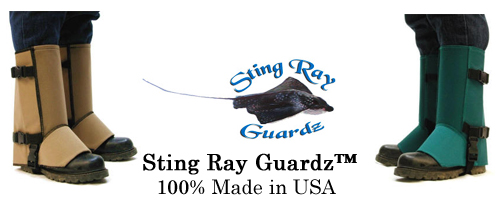 Sting Ray Guardz™ The original ultra lightweight sting ray gaiter, with metatarsal protection, designed to protect from the heel of the foot to the height of 12 inches.

Sting Ray Guardz are manufactured with 600 Denier Polyester Fabric encasing polycarbonate inserts. The material has 2 ounce rubber water proofing applied to inside surface to prevent water pockets from forming inside the Guardz. Sting Ray Guardz are secured in place with two 1 inch polyester straps and quick release buckles with an additional 1 inch polyester strap going under the foot to prevent "floating up" while wading. Sting Ray Guardz must be worn over wading shoes or boots since they offer no protection to the sole, toes or front of the foot.

Sting Ray Guardz - Color : Khaki-Tan
Price : US$ 62.37 Plus S+H : US$ 7.95



Sting Ray Guardz - Color : Ocean
Price : US$ 62.37 Plus S+H : US$ 7.95


S
I
Z
E
Small
4-7 yr old Child
Medium
50-100 lb Person
Large
100-200 lb Person
X-Large
180-250 lb Person
XX-Large
250-350 lb Person
XXX-Large
350-500 lb Person
F
I
T
S
6 to 9 inch circumference calves
9 to 14 inch circumference calves
14 to 18 inch circumference calves
18 to 23 inch circumference calves
23 to 28 inch circumference calves
28 to 34 inch circumference calves
Sting Ray Guardz are manufactured in KHAKI AND OCEAN fabric.
Sting Ray Guards have a Lifetime Warranty.